I can't believe that it's the middle of July already! As busy as we are, there are still so many fun things to do with the family. These are my choices of top picks that are happening this week. Please feel free to check out the whole calendar for the rest of the events and check back frequently as events are being added all the time.
It's Blueberry Month- and the blueberries are ripe and ready to be picked! Blueberry Haven has started including their own recipes on their Facebook page in case you want to try something new. Last winter, I won a prize package from Blueberry Haven which gave me the opportunity to try some of their other products. I have to say, I highly, highly recommend the Blueberry Salsa. My nephews do too.
Here are this week's top picks! Just click on the title to be brought to the listing in the event calendar for full details.
Blueberry Haven - limited evening hours
🎣 Pigeon Lake Ruff Fish Tournament
🏈 Packers Family Night Tickets On-Sale
🛩 Shiocton Fly-In - 2-day event!
2021 FunDay at Mattoon Sportsman Park
🚂 Summer Spotlight Depot Tours
A New Day Back-To-School Clothing Shop - multiple day event
A New Day Back-To-School Clothing Shop - limited evening hours
🎶 Antigo Music in the Park - Big Road
🎬 Clintonville Movies in the Park
THE POLAR EXPRESS™ Train Ride - Tickets Go On Sale July 25, 2021, at 10:00 a.m.
🪖 Wittenberg Area Historical Museum Open House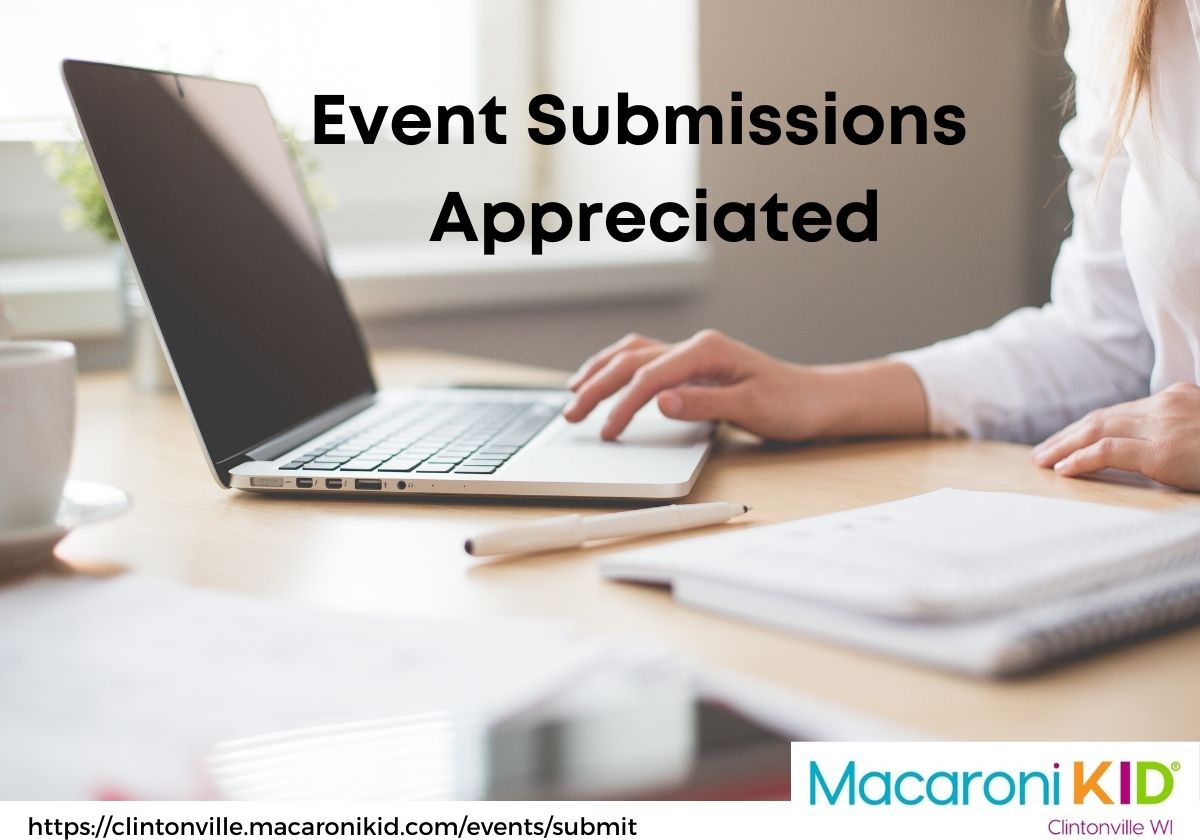 It feels like summer is both ramping up and winding down at the exact same time. With that being said, if you or your organization are hosting an event, please help us get it added to the calendar. You can click here which will bring you to our form. (We love our forms here.) From there, we might make some final edits before it's put live on the website. I've made this suggestion to a few other folks and maybe it could help you too. When you're in the planning stages of the event and are working on the poster/flyer design, just before you send it to the printer, use that flyer design to fill out the information on my form/website. It just might help you catch typos or missing information. If you have any questions or requests, feel free to e-mail me at mariev@macaronikid.com. There are a ton of exciting things on the horizon, with both summer fun and back-to-school. I don't want someone to miss out on your event.
It's supposed to be a gorgeous summer weekend. I hope you and your family get out and have some fun. There's plenty to do!
---
Get a FREE kid-friendly event calendar full of activities, events, festivals, and more! JUST CLICK HERE!
Submit Your Own Event to the calendar! Free to be included! Just Click HERE!
The Macaroni Kid Clintonville WI area covers a large portion of central Wisconsin. We work hard to support local businesses and families. We help you find your local family fun for the following communities: Adam's Beach, Almon, Aniwa, Antigo, Bear Creek, Belle Plaine, Big Falls, Birnamwood, Bonduel, Bowler, Breed, Buckbee, Caroline, Cecil, Clintonville, Eland, Elderon, Elmhurst, Elton, Embarrass, Galloway, Gillett, Gresham, Hayes, Hintz, Hogarty, Hunting, Keshena, Legend Lake, Leopolis, Lunds, Marion, Markton, Mattoon, Middle Village, Mosling, Mountain, Navarino, Neopit, Nichols, Norske, Norrie, Northland, Pella, Phlox, Polar, Pulcifer, Red River, Shawano, Shepley, Split Rock, Suring, Thornton, Tigerton, Tilleda, Underhill, Whitcomb, White Lake, Wittenberg, and Zoar.