Well, we're winding down another week. We're more than half-way through April. You can definitely feel spring is in the air and it's been nice seeing the kids outside playing more.
We've been pretty busy here at Macaroni Kid Clintonville WI. The calendar is slowly filling up with more and more family-friendly events. (If you happen to know of one that isn't on the calendar yet-it's totally free to submit it (it also gets it on the calendar much, much faster!) I don't know if you saw the awesome Paw Patrol deal our parent company CertifiKID was able to get for our subscribers! Paw Patrol Live- Virtual. Don't get me wrong, I love live shows- I once drove my family to Indiana to see Dora the Explorer Live (the Wisconsin shows didn't coincide with our schedules.) and I think my daughters' are still playing with the DeeDee from Doodlebops' wig from another show we went to. But- there is also something to be said for not having to budget for the extras and for making the popcorn any way you want it and snuggling under the favorite blanket in the favorite room of the house to see the show. You can find the deal here. THIS WEEKEND ONLY!
PAW Patrol Live! At Home – Virtual Event
April 24th & 25th

— View deal on CertifiKID
We are also in the beginning stages of creating the first ever Macaroni Kid Clintonville WI Birthday Club! We are so excited to be able to celebrate your child's birthday (along with our very generous sponsors!). You can find more out here.
In case you missed it last week, we also have 16 Tips to Make the Most of Your Macaroni Kid! We have a lot of information available on our site and we want to make sure that you're able to find what you're looking for.
I want to make sure that you don't miss the 2021 Mother's Day Gift Guide and Giveaway!
But- I know that the main reason you all subscribe to my newsletter is the events calendar and there are some good ones this week! (I'm still accepting responses for the 2021 Reader Survey too). And don't forget to check out the Plan Ahead section so you don't miss a registration deadline for a fun event coming up in a few weeks!
Top Events of the Week
🖍️ Dirty Gloves Club: Earth Day Coloring Contest at Shawano Lawn & Stone Co.
Beauty and the Beast - Clintonville High School Drama Performance - Virtual Event
🌎 Celebrate Earth Day at Navarino Nature Center
🎨 Spring Juried Art Show: Artists' Free Play VII at Walls of Wittenberg
🎞️ $5 All Day Tuesdays at Shawano Cinema - Indoors
🚜 Old-Fashioned Plow Day at Polar Recreation Ball Park
Bay Beach Opens - May 1st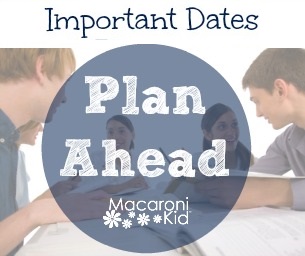 Kataes esehcekasiq family program
Clintonville Bike Rodeo - Registration Forms are due back by April 30th! (Information on how to get forms are available in the event listing).
You can find these events and many more on the Macaroni Kid calendar.
Get a FREE kid-friendly event calendar full of activities, events, festivals, and more! JUST CLICK HERE!
Submit Your Own Event to the calendar! Free to be included! Just Click HERE!
The Macaroni Kid Clintonville WI area covers a large portion of central Wisconsin. We work hard to support local businesses and families. We help you find your local family fun for the following communities: Adam's Beach, Almon, Aniwa, Antigo, Bear Creek, Belle Plaine, Big Falls, Birnamwood, Bonduel, Bowler, Breed, Buckbee, Caroline, Cecil, Clintonville, Eland, Elderon, Elmhurst, Elton, Embarrass, Galloway, Gillett, Gresham, Hayes, Hintz, Hogarty, Hunting, Keshena, Legend Lake, Leopolis, Lunds, Marion, Markton, Mattoon, Middle Village, Mosling, Mountain, Navarino, Neopit, Nichols, Norske, Norrie, Northland, Pella, Phlox, Polar, Pulcifer, Red River, Shawano, Shepley, Split Rock, Suring, Thornton, Tigerton, Tilleda, Underhill, Whitcomb, White Lake, Wittenberg, and Zoar.